Instead of take out, opt for Doc's Egg Drop Soup!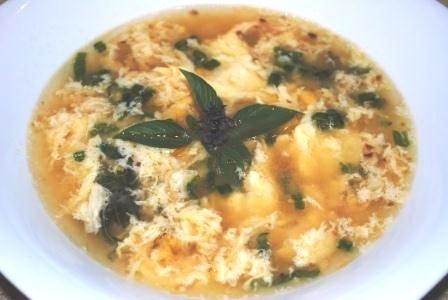 Ingredients
3 cloves fresh garlic, chopped OR 1/4 teaspoon garlic powder
1/2 teaspoon fresh ginger, minced OR 1/8 teaspoon ground ginger
Extra virgin olive oil OR PAM spray
Thai basil – a few fresh leaves
4 cups chicken stock
1/2 teaspoon soy sauce
1/8 teaspoon white pepper
2 eggs, slightly beaten with a splash of water
1 large or 2 small scallions, sliced thin OR 2 Tablespoons fresh chives, chopped
Sesame oil
Directions
Sauté the garlic, ginger and Thai basil in olive oil or PAM for a few minutes, being careful not to burn it.
Add the chicken stock.
Add the soy sauce and white pepper.
Bring to a boil.
Remove from heat.
Stir to swirl, and while soup is swirling, drizzle in the beaten egg.
Add scallions.
Drizzle in a LITTLE sesame oil to finish and serve.
ENJOY!
Enough for 2 bowls and equals 1 very lean protein per bowl.