LOSE AN AVERAGE OF 34 POUNDS OR 15% OF YOUR BODY WEIGHT!
Are you looking for a cutting-edge, effective and safe way to lose weight? Semaglutide may be the perfect solution for you! Not only does it help you lose weight, but it can also help to improve your overall health.
To find out if Semaglutide program is right for you, fill out the form on this page to book a consultation or call Dr. Schiff at 954-662-4194 
What is Semaglutide?
The evidence is clear; semaglutide is an exciting and incredible new FDA approved alternative when it comes to weight loss. Semaglutide is one of the most effective weight loss solutions on the market today; an alternative to phentermine, which is currently the most frequently prescribed weight loss medication. Semaglutide is second only to bariatric surgery in terms of the magnitude of weight loss achieved. That being said, weight loss surgery carries serious risks and only about 1% of the people who need aggressive weight loss actually undergo bariatric surgery.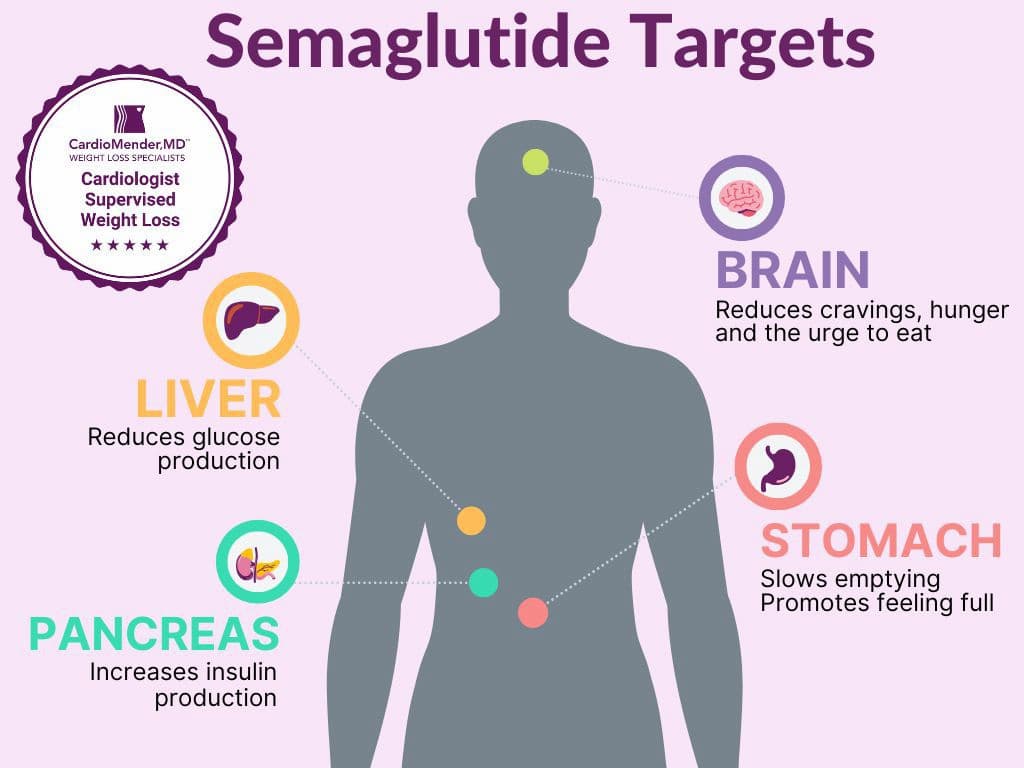 Approximate Percentage of Weight Loss on Semaglutide
70% of patients lost at least 10% of total body weight
50% of patients lost at least 15%
33% of patients lost at least 20%
The results of a clinical study1 of nondiabetic patients who took a semaglutide at maximum dose for 68 weeks reflected an average weight loss of about 15% of their total body weight or nearly 34 pounds. In fact, of the patients taking semaglutide, 70% lost at least 10% body weight, 50% lost at least 15% and 33% lost at least 20%.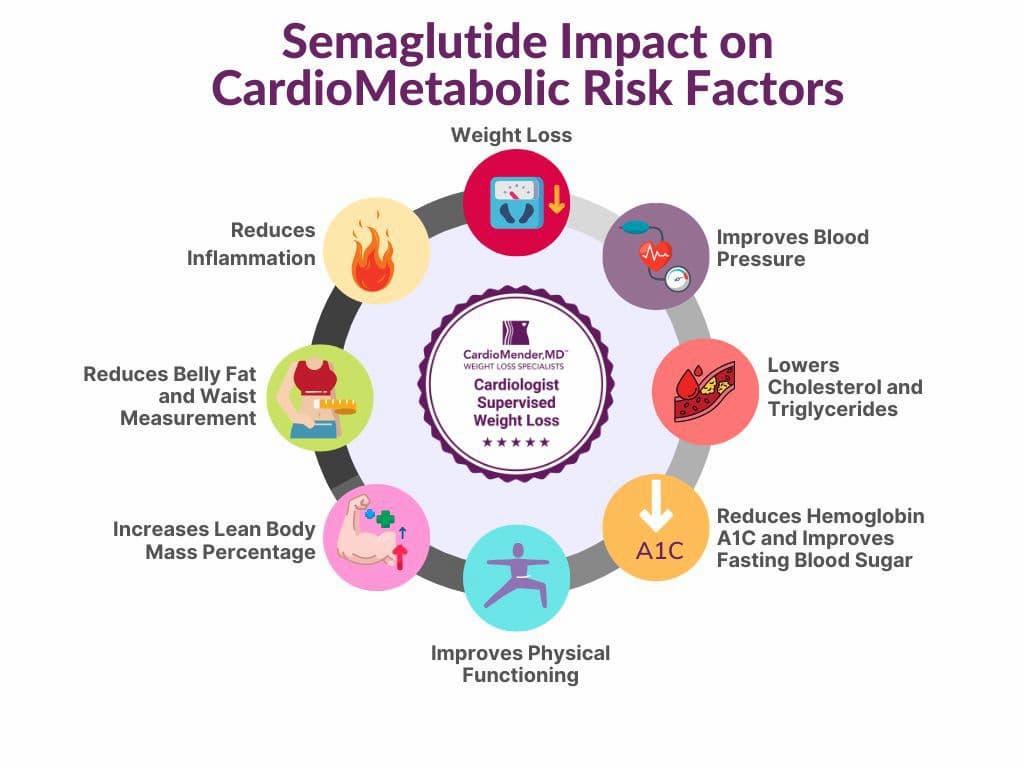 Semaglutide Targets in the Body
TARGETS
Brain
Stomach
Pancreas
Liver
EFFECTS
Reduces hunger and the urge to eat
Slows stomach emptying and creates satiety
Increases insulin production and improves blood sugar control
Reduces glucose production in the liver
Semaglutide acts on multiple body organs: on the brain to reduce hunger, cravings and the urge to eat ultimately reducing one's preoccupation with food; on the stomach to slow gastric emptying to feel full sooner and for longer; on the pancreas to increase insulin production leading to improved blood sugar control; and on the liver to reduce the production of sugar. Together these actions are believed to be responsible for profound weight loss success and the health benefits semaglutide treatment provides. When used as a weight loss drug, semaglutide is administered as a weekly injection.
How much weight can you lose on Semaglutide?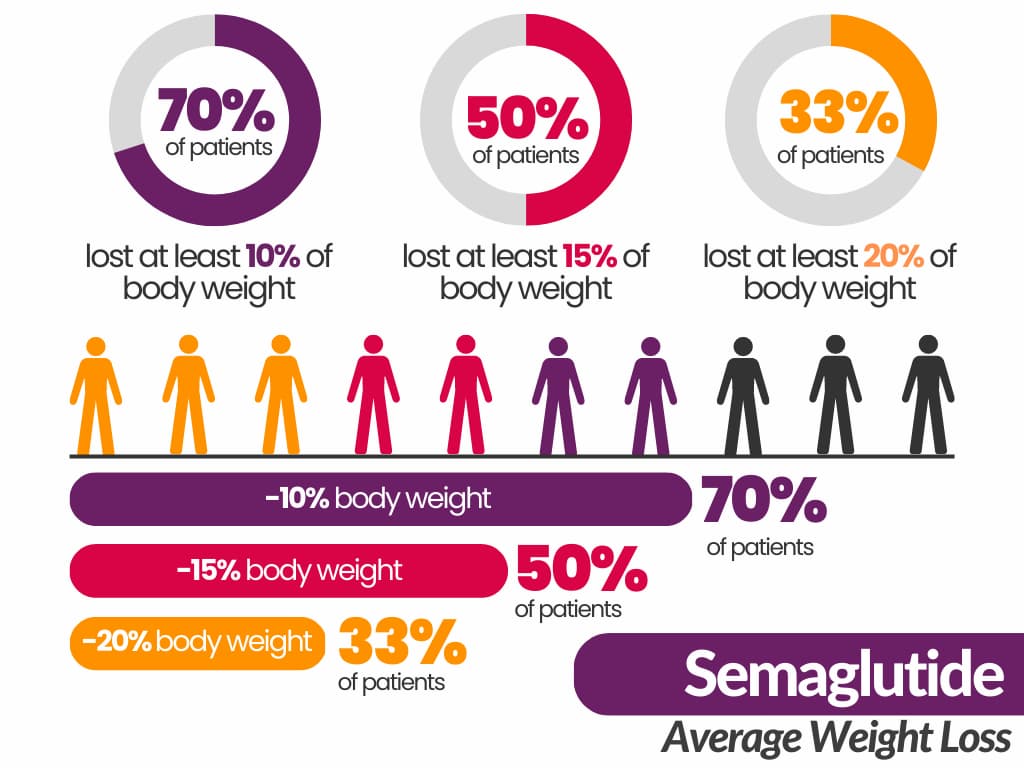 Semaglutide Impact on CardioMetabolic Risk Factors
Improves Blood Pressure
Reduces Hemoglobin A1C and Improves Fasting Blood Sugar
Lowers Cholesterol and Triglycerides
Reduces Belly Fat and Waist Measurement
Reduces Inflammation
Improves Physical Functioning
Increases Lean Body Mass Percentage
Additionally, those that took semaglutide had a reduction in cardiometabolic risk factors. Semaglutide use was associated with a reduction in blood pressure, lipids (cholesterol and triglycerides), fasting blood sugar, waist measurement, total body and belly fat, and reduced inflammation. At the same time, semaglutide was shown to be accompanied by an increase in physical functioning and lean body mass percentage. It is important to note, however, that not everyone is a candidate for this treatment, although most are.
Semaglutide for Weight Loss: How Does It Work?
Semaglutide is a member of one of the newest classes of medications used to treat Type-2 diabetes called GLP-1 agonists. When GLP-1 agonists were initially used to treat Type-2 diabetes many patients also lost weight and were found to have a host of health benefits including a reduction of cardiovascular events such as coronary artery disease and stroke, prevention and regression of Type-2 diabetes plus many others. Semaglutide is maximally effective for weight loss at doses that are significantly higher than what is currently recommended for the treatment of Type-2 diabetes.
Semaglutide is marketed under the names of Ozempic™ and Rybelsus™ for the treatment of Type-2 Diabetes. Semaglutide is sold under the name of Wegovy™ for the treatment of obesity and in patients that are overweight who also have other cardiometabolic risk factors such as hypertension, pre-diabetes, Type-2 diabetes, and hyperlipidemia, to name a few. Currently, Wegovy™ is generally not covered by insurance and costs about $1,300 per month. Despite this, at the time that this article was written Wegovy™ was listed on the FDA list of drugs that are in short supply.
Semaglutide is safe and well-tolerated, with minimal side effects. When people do get side effects, they are generally mild and often improve over time. To minimize their occurrence the semaglutide is started at a very low dose and increased gradually over 5 weeks. Studies show that maximal weight loss is achieved at the maximal dose. The most common side effects of semaglutide are gastro-intestinal such as nausea, vomiting, abdominal pain, heartburn, bloating, diarrhea, constipation, upset stomach, belching, and gas. Fatigue, headache, tiredness, and dizziness are less common.
Some patients report that if semaglutide is stopped, weight loss is reversed. That being said, there are no studies to determine if behavioral support and lifestyle changes will prevent weight gain if semaglutide is stopped. What is known is that obesity is epidemic and resistant to conventional treatments and is associated with significant morbidity and mortality.
Semaglutide has been shown to be a game-changer in the fight against obesity and the fight against coronary artery disease, stroke, Type-2 Diabetes, premature death and disability. Therefore, using semaglutide for treating high risk chronically overweight patients is a very reasonable option and a lifesaver for many.
Get Started with Semaglutide Today!
CardioMender, MD, Weight Loss Specialists will work with you to see if Semaglutide is right for you. We learn more about your health history and eating habits and then, come up with a specialized plan to make sure you lose weight and keep the weight off.
Contact CardioMender, MD, Weight Loss Specialists today to learn more about Semaglutide and our weight loss programs.
---
References:
1Once-WeeklySemaglutide in Adults with Overweight or Obesity
John P.H. Wilding, D.M., Rachel L. Batterham, M.B., B.S., Ph.D., Salvatore Calanna, Ph.D., Melanie Davies, M.D., Niels Zeuthen, M.Sc., and Robert F. Kushner, M.D.et al., for the STEP 1 Study Group Luc F. Van Gaal, M.D., Ph.D., Ildiko Lingvay, M.D., M.P.H., M.S.C.S., Barbara M. McGowan, M.D., Ph.D., Julio Rosenstock, M.D., Marie T.D. Tran, M.D., Ph.D., Thomas A. Wadden, Ph.D., Sean Wharton, M.D., Pharm.D., Koutaro Yokote, M.D., Ph.D., BACKGROUND Obesity is a global health challenge with few pharmacologic options. Whether adults with obesity can achieve weight loss with once-weekly semaglutide at a dose of 2.4 mg as an adjunct to lifestyle intervention March 18, 2021 N Engl J Med 2021; 384:989-1002 DOI: 10.1056/NEJMoa2032183