Delicious and ready to eat in less than 5 minutes!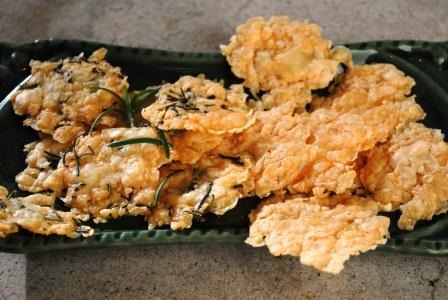 Ingredients
DiGiorno Shaved Parmesan Cheese (1 Tablespoon makes approximately 3-4 chips)
(2 TBS = 1 protein portion)
Fresh Rosemary sprig
Directions
Using a scissor, cut varying lengths of the rosemary for the "chips".
Gently mix rosemary and shaved Parmesan together in a small bowl.
Lightly spray toaster oven baking sheet with PAM spray.
Place shaved cheese and rosemary in a flat "circle" on the baking sheet.
Using a medium setting, toast the cheese one cycle. As toasters vary, adjust setting and time to your liking.
Bet you can't eat just one!!