Appetizers
Doc's Delicious Blue Cheese Dip and Dressing
Ingredients:
1⁄2 Cup No Fat Greek yogurt
1⁄2 Cup Reduced Fat Crumbled Blue Cheese
1 tsp Worchester Sauce
1 Tbsp olive oil mayonnaise
1 tsp garlic powder
Juice of 1 lemon
Salt and Pepper to taste
Directions:
Combine all ingredients and mix until evenly blended.
Enjoy!
Doc's Blue Cheese Dip goes perfectly with Doc's Buffalo Chicken Strips and Doc's Buffalo Cauliflower.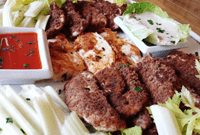 Check out Doc's many healthy recipes that will help you stay on track. Lots use the same ingredients, but in different ways, to help you stay on track with your weight loss plan.