This low carb bread crumb recipe isn't traditional, but it's a wonderful, healthy substitute for standard bread crumbs. It uses Carbquik, a low carb substitute for Bisquick™. You can use it as a replacement for regular bread crumbs in favorite meals. Don't miss out on enjoying holiday meals with your favorite foods. Read this recipe and others to see how our low carb alternatives make it so it's easy to enjoy the meals you grew up loving without being afraid it will be unhealthy or make you gain weight.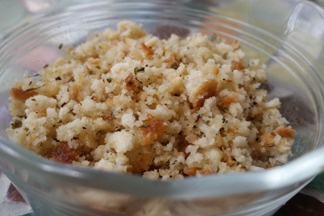 Ingredients
2 cups CarbquikTM baking mix, sold in our pantry
2/3 cup water
Extra virgin olive oil
Italian seasoning
Salt & pepper to taste
Directions
The first step is to prepare the CarbquikTM Drop Biscuit recipe as follows:
Preheat oven to 350 degrees
Place CarbquikTM in mixing bowl
On low speed, add water and run until dough forms and water has been absorbed
Spoon dough chunks onto greased cookie sheet
Bake at 350 for 10-12 minutes or until golden brown
Allow biscuits to cool completely
The next step is the seasoning:
Crumble cooled biscuits into small crumbs
In a bowl, season with Italian seasoning, salt and pepper
Add a small amount of olive oil until just moistened
Toast in toaster oven for a few minutes, watching that they don't burn
Enjoy!
Unseasoned biscuits / bread crumbs can be stored in a tightly sealed bag for days.