This mouthwatering Corvina fish dinner is flavored with CardioMender, MD's high quality olive oil and flavored balsamic vinegar. So tasty, whether you like it pan fried, on the grill or in the oven.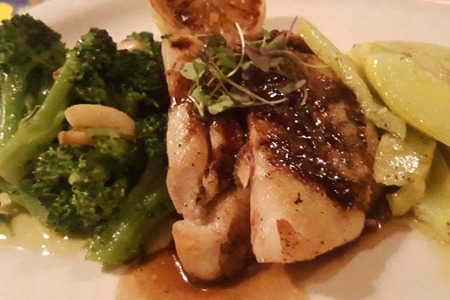 Corvina in Crosta
Corvina is a firm, white fish similar to sea bass. It has a mild, sweet taste with firm, large flaked flesh.
Ingredients, per serving
7 oz. Corvina
Salt & pepper to taste
2 oz. CardioMender, MD Black Cherry Balsamic Vinegar
2 oz. White wine
2 oz. Fish stock
2 oz. Broccoli
2 oz. Yellow squash
1 oz. CardioMender, MD Blood Orange Extra Virgin Olive Oil
1 stem fresh thyme
Directions
Season the Corvina with salt, pepper and brush with the black cherry balsamic vinegar.
In a skillet, on medium high-heat, sear the Corvina to form a crust, then flip and sear for 1 minute the bottom side.
Deglaze with white wine, add a fish stock with a thyme stem inside ,and put into the oven until it is cooked and reaches an internal temperature of 160°.
In a skillet, sauté yellow squash and broccoli over medium heat ,cooking the veggies just for 2 minutes.
Finish with a splash of blood orange olive oil.
Server with a drizzle of black cherry balsamic on top of fish.
Enjoy!
Check out the Doc's many healthy recipes that will help you stay on track!