Appetizers
Doc's Buffalo Chicken Strips
Healthy Buffalo Chicken Strips
Ingredients
1 lb. white chicken tenders pre-cut if you're in a rush or skinless and boneless chicken breasts (counts as 16 very lean proteins)
CarbquikTM baking mix (now available in our office)
Cholula Hot Sauce (or your favorite zero carb, protein & fat hot sauce)
2 eggs (counts as 2 proteins)
Salt, fresh pepper and red pepper flakes to taste
Extra virgin olive oil
Directions
Cut chicken breasts into 1″ wide strips
Put CarbquikTM in a bowl, add salt, fresh pepper & red pepper flakes.
Mix the 2 eggs in a separate bowl
Heat frying pan with a bit of the oil
Dredge tenders in egg mix then Carbquik and lay in heated flying pan.
Cook until you can see edges of chicken turning white and the strips are browned, then flip & cook on other side. Total cook time 4 or 5 minutes max, but make sure chicken is cooked through.
Remove to paper towel to drain any excess oil.
Top with Cholula or the hot sauce of your preference
Serve garnished with celery, my yogurt dill dressing or the dressing of your choice.
This dish gives you a total of 20 proteins. I give you unlimited celery to keep you cool! Drink lots of water!
*For Doc's Traditional Chicken Tenders leave out the Hot Sauce, add dried Italian seasoning to the baking mix or egg batter and serve with cocktail sauce, Low Fat Honey Mustard Salad Dressing or the dressing of your choice.
For more information about CarbquikTM, click here. We sell CarbquikTM in our pantry at our Pembroke Pines location.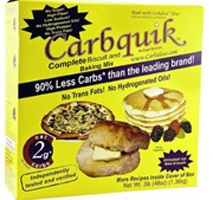 Check out the Doc's many healthy recipes that will help you stay on track!