St. Patrick's Day is a festive holiday in honor of St. Patrick, the patron saint of Ireland. This holiday has evolved into a celebration of Irish culture with parades, delicious foods, music, a ton of drinking and a whole lot of green. One of the most common superstitions relating to St. Patrick's day is that those who are Irish are inherently lucky. 
The Luck of the Irish won't help you Lose Weigh, but CardioMender, MD certainly will! When it comes to losing weight, it's not about luck; it's about a proven solution. You can count on CardioMender, MD to help you reach your weight loss goals and get back to your best self.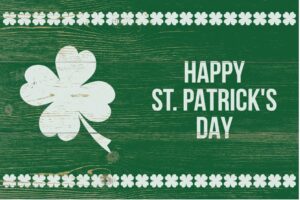 CardioMender, MD's Program
At CardioMender, MD, we don't believe in "yo-yo" dieting. With diets, you may lose weight fast, but when you go back to your roots, the pounds come right back. When executed effectively, the CardioMender approach ensures your long-term weight loss success.
Nutritional Plan
Fad dieting is often far from the reality of healthy eating. Dieting emphasizes calorie restriction with the intent of losing weight fast. Most fad diets seek to exaggerate an entire food group (an all-or-nothing approach), such carbs or fats, which is unsustainable. People who try these types of diets, frequently put the weight back on once going off the diet and often gain back more than they lost. 
Healthy nutrition that is balanced for weight loss, changes how your body works and addresses behavioral issues, which together, set you up for long-term success. CardioMender's approach involves creating a nutritional plan tailored specifically to you based on your lifestyle, your body, your palate and weight-loss goals.
Weight Loss Supplements
Supplemental lipotropic injections, a combination of vitamins, minerals and amino acids, complement our weight loss program as they help maintain optimal metabolism which includes burning fat to support your weight loss efforts. What you eat, including vitamins and minerals, and when you eat, affect the way your body breaks down the food and nutrients it uses for energy. 
To ensure that you maintain optimal metabolism, we strongly encourage the use of certain weight loss supplements. Benefits of weight loss supplements include:
Support metabolizing and burning fat

Support carbohydrate metabolism

Support your body's immune system

Support maintaining increased energy levels
Physical Activity and Exercise
Based on the milestones achieved on your individual weight loss program, we then conduct a personal assessment to evaluate your activity level and how you would be able to increase your physical activity for weight loss. A personalized exercise program may be recommended  to increase your daily physical activity, and as appropriate, encourage you to incorporate exercise for weight loss into your daily lifestyle. 
Continued Support
No weight loss program can be successful without ongoing support, education and monitoring. When you start to understand how your decisions affect your weight and health, you are able to take control of the choices you make and continue to put yourself one step closer to achieving your goals. 
Healthy Ways to Celebrate St. Patty's Day
Here are a few ways you can celebrate this lucky holiday without falling off your weight loss program:
Try an Ice Cold Apple Protein Shot in a Martini Glass – Add club soda to a High Protein Apple Shot for a sparkling non-alcoholic Apple Martini cocktail.
Enjoy a Shamrock Smoothie –

Make a green smoothie with spinach or kale as the base and add it to a

CardioMender, MD Ready to Drink Vanilla Shake

. Add chopped mint and 3-4 ice cubes and shake or blend. You can even add hemp seeds or matcha powder for added nutrition. 

Green Spritzer –

Instead of ordering a green beer this year, opt for a refreshing glass of sparkling water infused with lime, cucumbers and mint.

Try Doc's Corned Beef and Cabbage –

If you are craving some yummy St. Patrick's Day comfort food, you can count on this recipe to hit the pot of gold.