Entrees
Doc's Seared Scallops
Ingredients
Large sea scallops – buy dry ones if you can
Fresh garlic
Fresh ginger
Extra virgin olive oil
Fresh lemon
Salt and pepper to taste
Directions
Rinse and dry scallops.
Squeeze lemon juice on scallops and let sit for 10 to 15 min.
Chop garlic and ginger, and continue to mince together, adding 2 tablespoons olive oil; let sit while the lemon juice soaks into scallops.
Season the scallops with garlic/ginger/olive oil blend. Add salt & pepper to the scallops.
Get a large frying pan or grill pan VERY hot.
Sear scallops until brown and "crusty" on both sides.
Serve immediately.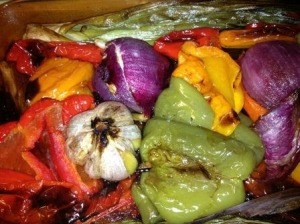 We ate these last week with a mix of vegetables we roasted in the oven. I included baby eggplants, a red onion, a head of garlic, some peppers (a mix of large red and green and small orange, yellow and red, all seeded first) and a few leeks. Sprinkle with a little olive oil, salt and pepper (red pepper flakes optional) and place in 425° oven for about 45 minutes. Turn once or twice.