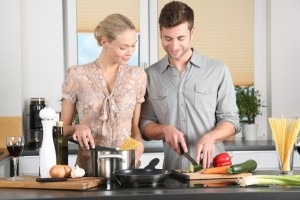 July is National Culinary Arts month, and this means a time to celebrate the creative joys of cooking. Some people approach cooking as an expression of their creativity, and they enjoy concocting their own recipes, using a combination of guess-work and tasting foods and seasonings to yield the best results. Others, though, see cooking as a chore, and with busy work schedules, kids to chauffeur to activities, and household responsibilities, time to cook often means drudgery.
With the convenience of food delivery businesses and takeout, not cooking can be awfully appealing. But July might be your month to change this perspective and move toward greater health for you and your family, one meal at a time. Enhance your family's wellness by cooking healthful meals at home, using the support of a meal plan with healthy recipes and resources.
Healthful Recipes and Resources Are Just a Click Away 
The National Heart, Lung, and Blood Institute, part of the US Department of Health & Human Services, says that having a healthy eating plan in place can reduce your risk of cardiac issues or other health problems. Having a plan helps you remember to include lean proteins, vegetables, and healthy fats that are a part of a good diet, and it also makes it easier to control the size of your portions, another aspect of eating healthfully.
In its article "Meal Prep: A Helpful Healthy Eating Strategy," the Harvard School of Public Health talks about the nuts and bolts of setting up your healthy meal plan. Ideas like creating a menu, shopping once a week to purchase items needed to prepare your meals, and cooking foods in advance like hard-boiled eggs, roasted vegetables and turkey meatballs, or having quick-fix meals and grab-and-go snacks available, can help you save time during your busy weekly routine. In addition, finding an organized program, such as the plan offered by CardioMender, MD™ Weight Loss Specialists, may offer you the extra support, recipes, and resources you need.
CardioMender, MD™ Weight Loss Specialists' website features a host of healthful recipes for entrées, soups, salads, side dishes, and even desserts and snacks. Often, we struggle to figure out what to fix after a long day at work, but by using the recipes and the product resources available on the website, you can develop a plan that will make meal prep easy and delicious. The website also offers the support of supplemental foods for purchase to help your efforts to cook at home when time is short. Items like PlantPower Sandwich Thins, Cauliflower Pizza Crusts, soups, and even meatless entrées can make creating a healthful dinner for your family easier when you're short on time.
Make July your month to make the change toward embracing newfound culinary delights and good health at the same time! Let CardioMender, MD™ Weight Loss Specialists support your efforts using a customized program and proven strategies tailored to your individual needs. Contact us at 954-628-3802 to make an appointment today!
References:
CardioMender, MD™ Weight Loss Specialists. (2018). CardioMender, MD™ Weight Loss Specialists. Retrieved from https://www.cardiomenderweightloss.com/#
Harvard School of Public Health (2017). Meal Prep: A Helpful Healthy Eating Strategy. HSPH/Harvard. Retrieved from https://www.hsph.harvard.edu/nutritionsource/2017/03/20/meal-prep-planning/
National Heart, Lung, and Blood Institute. (n.d.). Healthy Eating Plan. NHLBI. Retrieved from https://www.nhlbi.nih.gov/health/educational/lose_wt/eat/calories.htm