Timing is Everything!
End of year wrap up!
The time between Thanksgiving and New Year's is a very special time of celebration and family. In terms of weight loss, it can be a new beginning or the beginning of the end of our weight loss journey. Here are some interesting facts to inspire you this holiday season: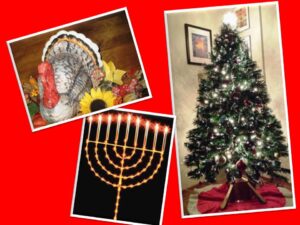 It has been our experience that patients who make a commitment to begin or continue our program during the holiday season tend to be the most successful with BOTH losing weight AND keeping it off!
Did you know that over the holiday season…
• We gain the most weight and rarely shed it afterwards; it accumulates over the years and is believed to be a significant contributor to becoming overweight in mid-life. This phenomenon is referred to as 'Holiday Creep'.1
• People who are obese show greater increases in body fat over the holiday compared to people with normal weight to begin with. 1
• Overweight or obese individuals gain as much as five pounds. 1
Although we do not accept insurance, we help many of our patients who have coverage for medically supervised weight loss get reimbursed.
Use It or Lose It: If you have a Flexible Savings Account (FSA), benefits cannot be carried beyond the plan year. So if you don't take advantage of the benefit, you lose it! 2
If you have a Health Savings Account (HSA), medically supervised weight loss may be covered by your plan. In an HSA, funds roll over and accumulate year to year if not spent, in contrast to a flexible spending account (FSA). 3
Disclaimer: This is for general informational purposes and does not constitute advice. For your specific circumstances, we advise you to consult your insurance representative, accountant or tax professional.
1 November 23, 2015, Rush University Medical Center; 'Give Yourself Time for Good Health', Jennifer Ventrelle, http://rushinperson.rush.edu/2015/11/23/the-gift-of-time/- more-7093
2 https://www.irs.gov/Government-Entities/Federal,-State-&-Local-Governments/FAQs-for-government-entities-regarding-Cafeteria-Plans
3 https://en.wikipedia.org/wiki/Health_savings_account