Dessert
Doc's Fruit Salad with Lemon Zest Dressing
A zesty twist of your favorite healthy dessert recipes!
Ingredients
Fruit
Blueberries
Strawberries
Apples
Raspberries
Dressing
2 1/2 cups of Non-Fat Greek yogurt nonfat plain
2 tsp vanilla extract (no added sugar)
1 tsp finely grated lemon rind or lemon zest
2 tsp. lemon juice
Several leaves of shredded mint (optional)
¼ tsp stevia/Splenda or to taste
Directions
In a medium non-metallic bowl combine all the ingredients for the dressing and stir.
Cover and refrigerate for several hours or overnight.
When ready to serve, cut up fruit and spoon dressing on top.
Enjoy!
Try adding some of our high protein granola to this recipe!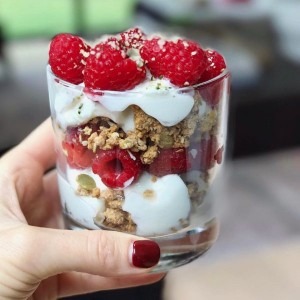 You can find several different kinds of high protein granolas and cereals on our Breakfast and More webpage.
Check out the Doc's many healthy recipes that will help you stay on track!