Happy Anniversary, CardioMender, MD! We are so excited to be celebrating 13 years of CardioMender successes. At CardioMender, MD, we've had the pleasure to serve patients in South Florida, helping them reach their health and wellness goals and live their life to the fullest.
We want YOU to enjoy the lifetime benefits of wellness and weight loss at CardioMender, MD. Need an extra push?
Check out what our patients have to say: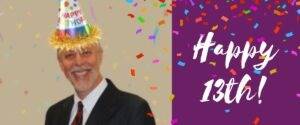 "Very positive & motivating! Everyone at CardioMender is very pleasant, helpful & knowledgeable. I've had good success with them & will continue with CardioMender until I reach the ideal weight. I highly recommend them!" – Lili T.
"I was 100% satisfied with my experience with the Doctors, the office Staff, and the program. Everyone was supportive, attentive, and friendly. I would definitely recommend this weight loss program to anyone looking to convert their possibly "unhealthy" body from the inside out. My overall health was a priority; losing the weight was a bonus. The pantry is filled with a variety of options to help with the program.  I was obsessed with a lot of their food choices. The program was customized to meet my health goal and weight loss goal. Overall, I am happy I made the decision to start and complete this program. Thank you CardioMender!"  – Taina J.
"I look great. I feel great. No blood pressure meds, No cholesterol meds. The office is excellent. Everyone is so knowledgeable, helpful and supportive. Love the snacks. A+ recommend." – William H.
"They have helped my mom lose weight and learn how good nutrition can help her avoid future diseases. Moises is amazing, he is really professional and patient. He has gained my mom's trust to the point that it has been almost 5 weeks and she hasn't quit the program (something that has never before with any weight loss program we have tried). I'm more than sure that Moises will help us achieve our goal and make my mom learn how, with good nutrition, she can live a longer and healthier life." – Christian S.
"I was tired of diets that were not sustainable. I was tired of gaining more than I lost.
Dr. Schiff is a brilliant, compassionate professional who UNDERSTANDS how to lose weight and get healthy and keep it up. BRAVO to Cardio Mender and BRAVO to me!"   – Amy K.
"How do I start? My wife and I needed a change. We were experiencing weight gain and not understanding why. Tried a lot of programs in the past. My urologist recommended CardioMender. Turned out to be, by far, the best program for us. Able to cook our own foods and eat out, but now understand what to eat. They teach you about your body, your weight and how to live a healthy lifestyle. Their pantry and great staff help you in every form and fashion. Never feel pushed into buying anything. Extremely happy with CardioMender. Helps mind, body and soul. Lost 50 pounds in about 5 months. Didn't seem to be too much, too fast – just right. Thanks to Jannara, Shari and the entire staff for their support." – George F.
CardioMender is like going to a long time family doctor. The care they put into each patient… there are no words. And the results are immediate. They say it's not a diet, it's a lifestyle. They are so right. I lost 36 lbs in 2.5 months… highly recommended. Love it and Live it!       – Vicki K.
Committed to Improving Long-Term Health and Wellness
Weight loss isn't just about looking great, it's also about feeling great and being the best version of yourself, inside and out. Dr. Schiff and the CardioMender weight loss team are here to help you overcome the roadblocks that prevent you from meeting your weight loss goals and maintaining a healthy weight. Our objective is to not only to help you improve your long-term health and wellness, but also prevent disease and regression.
Weight is a silent heart risk that many people often overlook when it comes to their health. Heart disease is the leading cause of death for both men and women in the United States, and being overweight is a key risk factor. Obesity increases the risk for many serious diseases and health conditions, including:
High blood pressure

High cholesterol

Type 2 diabetes

Coronary heart disease

Stroke

Certain types of cancer

Sleep apnea and breathing problems
Weight loss truly can do wonders for your cardiovascular health, helping you avoid these common conditions linked to being overweight and obesity. Dr. Schiff commits to preventing people from becoming cardiac patients, rather than treating them afterwards. You can reduce your risk of getting heart disease by following a heart-healthy lifestyle with CardioMender, MD, decreasing your chances of relying on medication to keep you healthy. 
Be A Part of Something Bigger than Yourself
CardioMender, MD is an icon in the South Florida community. Our program is meant to help you manifest the life you desire and become the person you want to be — inside and out. We help you adopt tools to improve your energy levels and become more active and teach you life skills that help you keep the weight off, all while being your number one fan throughout your entire journey. 
What are you waiting for? Uncover your why and take action to living your healthiest life with CardioMender, MD.