CardioMetabolic Balance is one of CardioMender's newest novel nutritional supplements that provides both metabolic and cardiovascular support to help maintain and support optimal metabolism and cardiovascular health. CardioMetabolic Balance is a unique combination of three nutritional supplements; berberine, alpha-lipoic acid and grape seed extract. Together they support the maintenance of the cardiovascular system and of healthy blood sugar levels and lipids† particularly when used in conjunction with a CardioMender, MD nutritional plan.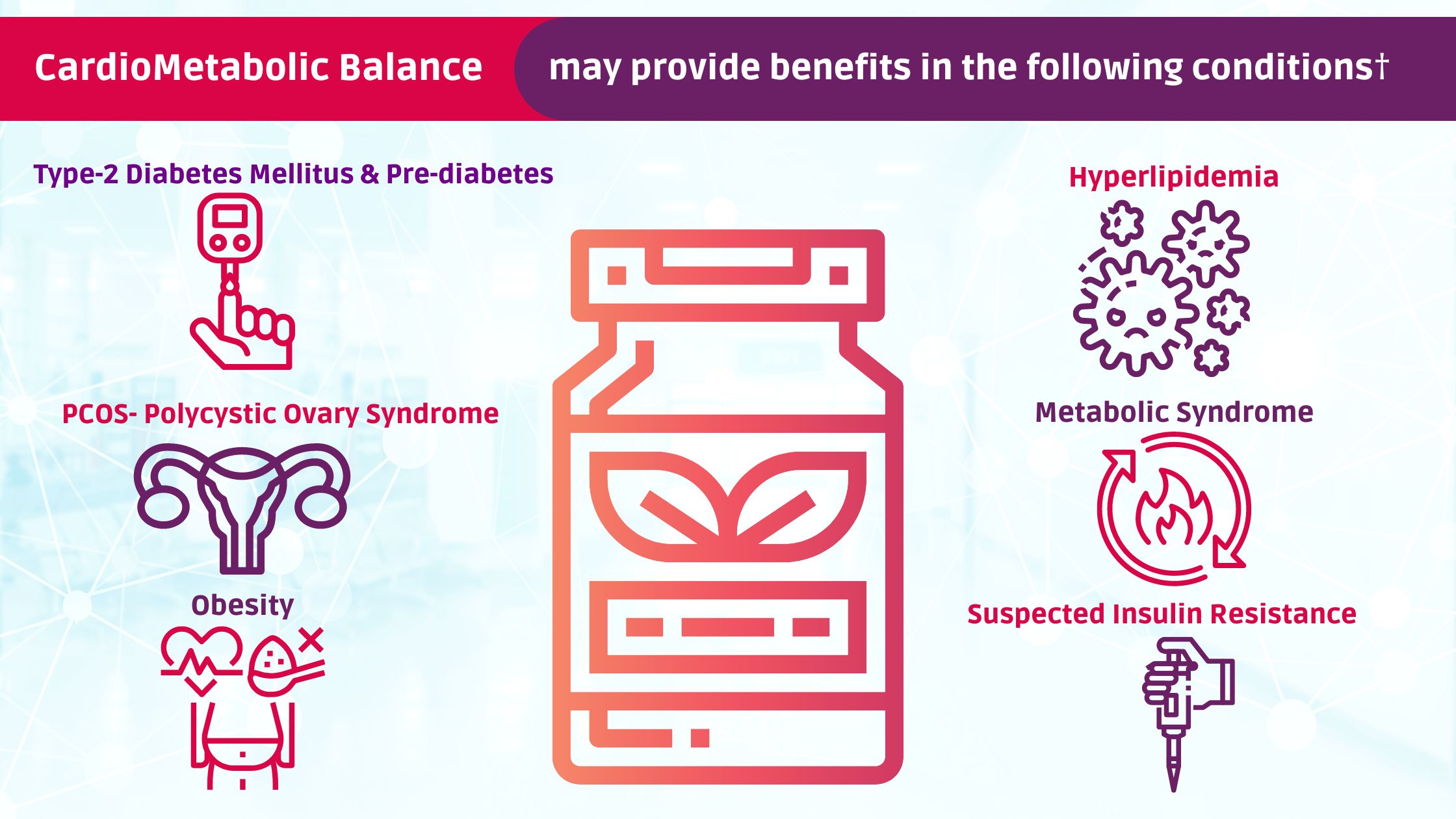 CardioMetabolic Balance may provide benefits in the following conditions†
Type-2 Diabetes Mellitus
Pre-diabetes
PCOS- Polycystic Ovary Syndrome
Obesity
Hyperlipidemia- Specifically with High Triglycerides, High LDL-Cholesterol
Suspected Insulin Resistance
Potential Health Benefits of Berberine†
Berberine is a natural compound that can be extracted from several different types of plants. Berberine has been shown to improve insulin resistance and has been shown to lower Hemoglobin A1C, which is an indication of improved blood sugar control. Berberine has also been shown to be as effective as metformin for controlling blood sugar†1. Berberine has been shown to be effective in reducing both Total and LDL cholesterol and triglycerides (TGs)†2,3,4. Since berberine has been shown to improve insulin resistance and also to lower testosterone in women, this may be responsible for the improvement in menstrual regularity and reduction in body hair, associated with Polycystic Ovary Syndrome†5 (PCOS).  Additionally, berberine has both anti-inflammatory and antimicrobial properties†.
Potential Health Benefits of Alpha Lipoic Acid (ALA) †
Alpha-Lipoic Acid has antioxidant and anti-inflammatory properties†6. Alpha-lipoic acid is found in various foods and is also made naturally by the body. It is involved in the breakdown of carbohydrates and energy generation. Its use has been associated with hypoglycemia or low blood sugar and has been shown to have beneficial effects on insulin resistance and, therefore, may be considered an effective adjunct to weight loss programs†. In Germany, alpha-lipoic acid has been used to treat Diabetic Neuropathy.
Potential Health Benefits of Grape Seed Extract†
Grape seed extract is a byproduct of grape seeds that have been shown to contain proanthocyanidins, a plant bioflavonoid. Proanthocyanidins may protect the cardiovascular system and specifically the blood vessels of the circulatory system†. It is believed to do so by stopping the breakdown of collagen. This may result in the reduced risk of a heart attack and stroke†. Grape seed may also have an antioxidant effect. This may lower the risk of certain cancers†.
At CardioMender, MD, CardioMetabolic Balance is frequently recommended to people with the following conditions:
Prior to starting any supplement, we urge you to consult with your healthcare professional. Feel free to call us and ask if CardioMetabolic Balance is right for you!
Reference:
https://www.ncbi.nlm.nih.gov/pmc/articles/PMC2410097/
https://www.ncbi.nlm.nih.gov/pmc/articles/PMC5871262/
https://pubmed.ncbi.nlm.nih.gov/15531889/.
https://www.ncbi.nlm.nih.gov/pmc/articles/PMC2410097/.
https://www.ncbi.nlm.nih.gov/pmc/articles/PMC7028834/\
https://pubmed.ncbi.nlm.nih.gov/11467343/