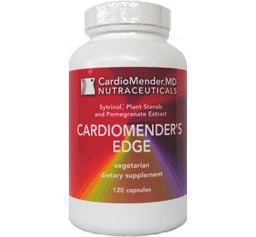 Ask us if CardioMender's Edge, a unique blend of plant sterols and other natural plant ingredients, is right for you!

Substances found in certain plants (sterols) can reduce bad cholesterol (LDL) by 10%*
​Eating foods low in saturated fat & cholesterol & high in plant sterols can lower bad cholesterol by 20%*
If you're currently taking a statin, adding plant sterols is more effective than doubling the dose of the statin!*
For more information on this product, click here.
*Meta-analysis of 41 clinical studies: Efficacy and Safety of Plant Stanols and Sterols in the Management of Blood Cholesterol Levels, Martijn B. Tatan et al, Mayo Clin Proc. 2003 78:965-978