Teenage Weight Loss Success Story: "The bullying stopped."
When I was a kid in elementary school people called me names like fat ass and fat boy until my 6th grade year. I couldn't take it anymore, I wanted to be different , to fit in, so my mom came to me and told me of a program that could help me lose my weight.

I remember when I first walked in I thought this is stupid and how if my friends saw me or heard I came here I would never live it down. But in the first few weeks it was working – I was losing the weight and getting fitter. After the program the bullying stopped. To this day I never regret walking through those doors, because the people there helped change my life."
-Matthew, Pembroke Pines, Feb 2015
This is one of our most uplifting weight loss success stories!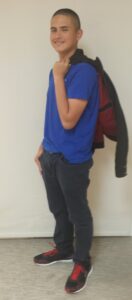 Over the years our program has helped many people achieve their health and weight loss goals.
I chose to feature this story about Matthew. He was only 12 years old when he started our program. He came to us markedly overweight and was experiencing serious bullying at school. Matthew not only lost weight but gained control of his life as he learned about food and how to select food as opposed to choosing foods that were convenient and which in effect controlled him, leading to weight gain, peer ridicule and bullying with no solution in sight.
Matthew is now almost 16 years old and 'Living it!" No one pushes Matthew around anymore. He is now in control of food and better equipped to deal with the many challenges he will be facing the rest of his life. Congratulations Matthew! "You've got to Live It!"
-Dr. Barry Schiff
Ready to  take the next step and be among our happy, healthy, and  successful weight loss success stories?
Learn more about CardioMender's weight loss program today!
*Results are typical, but cannot be guaranteed.