Medically-Supervised Weight Loss Review
Lesli L. had kind words for us and she also had a question that many people may find interesting.
"Made my goal yesterday! So excited to enter transition and add lots of new foods! Thank you everyone for your support and help!! I haven't been at this healthy weight in years—and it feels great!! BTW: if I eat any dark chocolate, what should the % be?"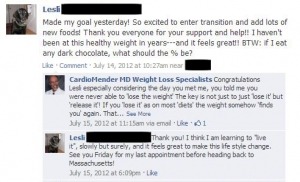 Dr. Schiff replied, "Congratulations Lesli especially considering the day you met me, you told me you were never able to 'lose the weight' The key is not just to just 'lose it' but 'release it'! If you 'lose it' as on most 'diets' the weight somehow 'finds you' again. That's why once you hit goal you progress to our maintenance program where we emphasize, 'You gotta live it'; we provide you with the support and guidance to do so.
In terms of chocolate, the greater the cocoa content the better… 65 or 71 are good but remember- control the portion size… Dark chocolate contains a lot more cocoa than other forms of chocolate. And standard chocolate manufacturing destroys up to half of the flavonoids. But chocolate companies have now learned to make dark chocolate that keeps up to 95% of its flavonoids.
Congratulations again Leslie for 'losing it' & reaching your goal! Remember, 'You gotta live it!' to 'release it' and you will 'never diet again'!
To read more of Dr. Schiff's food for thought, click here.