Would you benefit from a weight loss support group? Dr. Barry Schiff will moderate a Thursday evening support group, hosted by CardioMender, MD, where you can share challenges, build on each other's successes, get tips and even sample recipes and products.
Attendance is limited so please register to participate. The first meeting was received so well it was decided to hold bi-weekly sessions (every other week). The next meeting will be in our Pembroke Pines office at 6:30pm on Thursday, April 27th.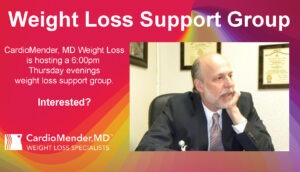 Interested? Just fill in this form. We need to get an accurate head count so please fill in this form. Thanks for your interest!