QUICK FIX WEIGHT LOSS SOLUTIONS – OPEN HOUSE – Apr 29th
YOU

 are invited to our
Open House – April 29th!

Learn some of CardioMender, MD's Quick Fix Weight Loss Solutions. It doesn't matter whether you haven't tried weight loss plans before or you're already a successful patient. Dr. Schiff, Dr. Young, and the CardioMenderMD team will be sharing the newest, most up to date information on weight loss science, and tips everyone needs to know. You can put it to work for you. Come in and meet with a weight loss cardiologist, and an obesity medicine physician. There's no commitment, no contracts. Learn how people lose weight easily, safely and quickly with us.
FREE FOR EVERYONE!!
JUST PLEASE RSVP HERE SO WE KNOW
HOW MANY PEOPLE ARE COMING.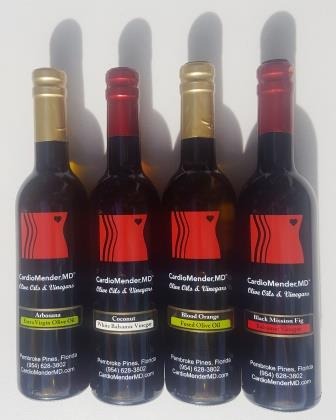 Check out our new, exclusive and delicious weight loss products including our new Ultra Premium Extra Virgin and Flavored Olive Oils and Flavored Balsamic Vinegar varieties.
R.S.V.P. Today
Secure Your Spot for this Fun-Filled Day!
There will be:
Raffle each hour

Food Samples – Try our very own recipes!

Product showcase

Meet the CardioMender, MD Team

Special Event Only Pricing On Our Effective Weight Loss Plans!
Where:
CardioMender, MDTM 17009 Pines Blvd Pembroke Pines, FL 33027
When:
Saturday April 29th – 1:30pm – 4:30pm
Barry Schiff, MD, FACC
Board Certified Cardiologist & Director of Medical Operations
A physician leader who has practiced both Cardiology and Internal Medicine in South Florida for almost 30 years, Dr. Schiff has served as both the Chief of Staff and the Chairman of the Department of Medicine for Memorial Hospital Pembroke in Pembroke Pines, FL.
The Weight Loss Team
Meet our Staff!
Meet the talented and caring team that's here to help you on your journey to weight loss and wellness! We treat each patient as an individual, providing customized, medically supervised weight loss solutions to achieve a healthier lifestyle, including disease prevention and regression.
D. Allen Young, MD, FACP
Weight Loss & Internal Medicine
D. Allen Young, MD recently joined CardioMender, MD and has a special interest in the prevention and reversal of serious weight related health issues. He spent 10 years at Mount Sinai Medical Center in Miami Beach where he was Program Director of the Internal Medicine Residency program and Vice Chairman of Academic Affairs/Department of Medicine.