This mouthwatering skirt steak dinner is flavored with CardioMender, MD's high quality olive oil and flavored balsamic vinegar. So tasty, whether you like it rare, well done or anyplace between.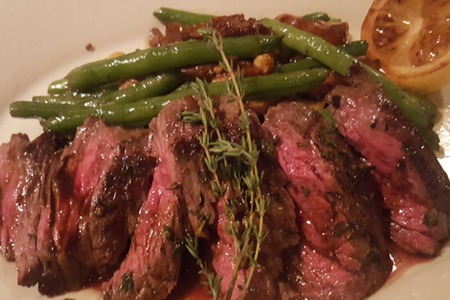 Skirt Steak with Green Beans and Mushrooms
Ingredients, per serving
7 oz. Skirt steak
Salt & Pepper to taste
2 oz. CardioMender, MD Tuscan Herb Extra Virgin Olive Oil
3 oz. White Mushrooms
3 oz. Green beans
2 oz. CardioMender, MD Mission Black Fig Balsamic Vinegar
1 oz. Garlic, minced
Directions
In a shallow baking dish, season steak with salt and toss in Tuscan Herb olive oil to coat.
Grill steak over medium high heat to temperature desired.
In a skillet, heat olive oil and sauté garlic until just starting to brown.
Add green beans and mushrooms and continue to sauté until cooked as desired.
Deglaze with Fig Balsamic Vinegar.
Enjoy!
Check out the Doc's many healthy recipes that will help you stay on track!