Supplements and vitamins are supposed to help you, not harm you. Many manufacturers put profit above your safety, but CardioMender, MD never will.For a very limited time, all our Nutraceuticals are on sale.

We have all heard reports of fraudulent supplements and vitamins, including in a NY Times article published not long ago. Read how CardioMender, MD Nutraceuticals are different, and find the full NY Times article and the NY Attorney General's Cease and Desist Notice in CardioMender's article found here.
CardioMender, MD supplements:
Are highly purified
Have extensive Quality Assurance (QA) testing
Undergo rigorous analysis
Special April 5 through April 11, 2017
Print this page and bring it in, or show it on your smartphone, for this Special,
valid from April 5 through April 11 only.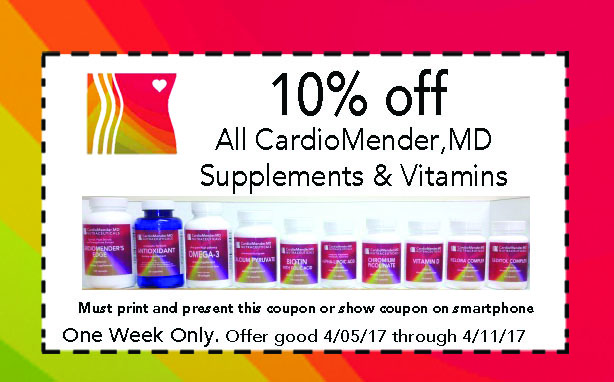 *Disclaimer – Statements made are for educational purposes and have not been evaluated by the US Food and Drug Administration. They are not intended to diagnose, treat, cure or prevent any disease. You should consult with your physician before making decisions about therapies and/or health conditions.