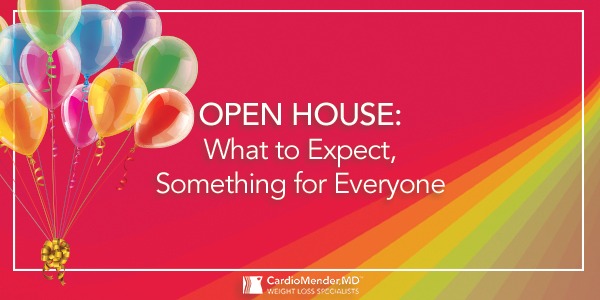 When:
Saturday, April 21st 1:30pm-4:30pm
Where: 
CardioMender, MD Weight Loss Specialists
17009 Pines Blvd
Pembroke Pines, FL 33027
Tell me about the Open House – What is it?
The CardioMender, MD Open House is considered one of the biggest events of the year, providing all of our guests the best sales of the season, an opportunity to meet our physicians and specialists, try new products and recipes and learn why we're different than other programs.
This event only happens twice a year, so we encourage you to come hungry and ready to save!
Not only are you going to save money, but you will get to sample our newest products and recipes such as our chili over fusilli pasta, cauliflower pizza, orzo, pesto, smoked artichoke tapenade, oatmeal, paninis, cookies and smartcakes.
In addition to our specials, we are also proud to announce the introduction of our new Maintenance Cookbook & FREE mobile app. By combining our individualized CardioMender, MD weight loss plans with the Fresh Steps Cookbook, meal planning is easier than ever. We want to empower our patients to discover simple strategies for creating wholesome, great tasting meals and snacks. Be the first to include our new app and cookbook into your weight loss program! With the purchase of a Fresh Steps Cookbook, receive your first day of CMMD meal items free.
Do I need to bring anything? 
Bring a friend! If you bring a friend and they join, you will get a $25 referral credit.
You and your friend will get to enjoy the best of the season pricing. Also, come ready to sample some of our delicious foods and new recipes.
Will I learn anything? Is there an educational component?
We will be introducing our new free app and Maintenance Cookbook. This includes a live demonstration of our application. By having these tools, you will come to find that you don't have to compromise flavor when on a healthy nutritional plan.
Also, our entire team at CardioMender, MD Weight Loss Specialists will be available to answer any questions you may have.
I heard there were specials — What can I expect?
You will get THE best pricing of the season. This event happens only two days a year. Almost every product and service we offer is on sale, including supplements, weight loss services, Vitamin B-12 lipotropic injections, and food.
In addition to our rock bottom prices, we are having free raffles and giveaways. 
A sneak peak of our specials include: 
Buy 1 get half off on CardioMender, MD Supplements
Follow-up visit packages on sale
Our ReStart Package will be on sale
And much, much more
If you have additional questions about our Open House, please give us a call at 954-628-3802.