We used some of our high quality, flavored olive oils to give this easy chicken dish some added punch.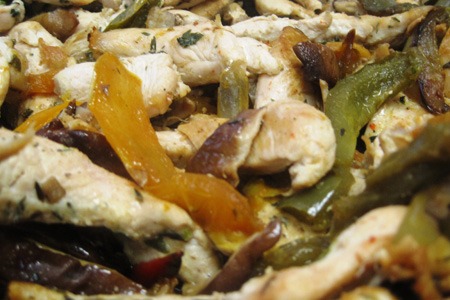 Chicken with Peppers and Mushrooms
An easy chicken dish
Ingredients, per serving
7 oz. Boneless Chicken breast cut into strips
Salt & pepper to taste
2 oz. CardioMender, MD Tuscan Herb Olive Oil
2 oz. CardioMender, MD Persian Lime Olive Oil
2 oz. white wine
2 oz. Chicken stock
2 oz. Bell Peppers
2 oz. Shitake mushrooms
Directions
Season chicken with salt and pepper to taste.
Marinate chicken in Tuscan Herb olive oil.
In a skillet over medium high-heat, sauté the chicken for approximately 5 minutes on each side.
Add white wine to deglaze, then add chicken stock and put into the oven until the chicken is fully cooked and reaches an internal temperature of 160°.
In a skillet sautéed peppers and mushrooms over medium heat, cooking the veggies just for 2 minutes.
Finish with a blush of Persian Lime olive oil.
Enjoy!
Check out the Doc's many healthy recipes that will help you stay on track!