This tempting dip is tasty and diet friendly!  Use it as a dip or a topping!  Prepare our healthy recipes as a snack to bring to work, or for your next party!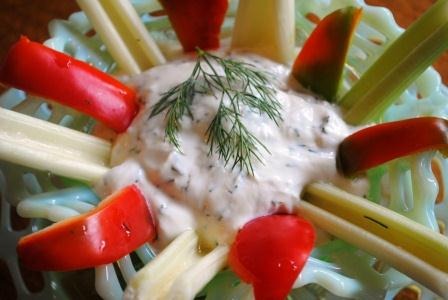 Ingredients
1 cup of 'Zero' fat Greek yogurt
1 Tablespoon of finely chopped fresh dill
1 clove fresh garlic, chopped fine (or ¼ teaspoon of dried garlic powder)
1 squeeze of a half of fresh lemon (or 2-3 teaspoons of lemon juice)
Fresh ground black pepper
Red pepper flakes
Salt to taste
Directions
Mix together the yogurt, dill and garlic.
Add a good squeeze of lemon.
Add the black pepper, several shakes of red pepper and salt to taste.
Garnish wth dill sprigs.
Serve with fresh veggies – remember cucumbers are unlimited and a refreshing summer snack.
Variations
For Tzatziki Dip – Add half a medium cucumber, peeled and grated.
or
Use as a topping when grilling salmon or chicken breast.